Eight Pensionmark Advisors Named to NAPA's 2020 Top Women Advisors List
Who We Are
In the News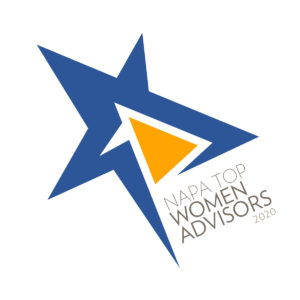 Eight Pensionmark Advisors Named to NAPA's 2020 Top Women Advisors List
PRESS RELEASE – FOR IMMEDIATE RELEASE
Contact: Renata Coimbra - (805) 456-7098 - Renata.Coimbra@Pensionmark.com
Pensionmark is proud to announce eight advisors across our network have been named to the 2020 NAPA Top Women Advisors List across all 3 categories - Captains: Kathy Branconier, Brea Dantin, Shelly Horwitz, Shannon Main, Debbie Matustik; All-Stars: Kristen Deevy, Michele Lantz; and Rising Stars: Veronica Taylor.
This is the sixth year the National Association of Plan Advisors, a branch of the American Retirement Association, has put out a list of women advisors who are making significant contributions to a male-dominated profession.
The list includes 3 categories of advisors, all chosen based on qualitative and quantitative responses related to their retirement plan practice and their experience throughout their career in the industry. The three categories include:
Captains: All-stars who happen to be principals, owners, or team captains of their organizations.
All-Stars: Top producers who have their own practice.
Rising Stars: Top producers who have less than five years of experience with retirement plans as a Financial Advisor (some have been working with plans longer, but not as a plan advisor).
Source: https://www.napa-net.org/industry-intel/accolades/top-women-advisors
Pensionmark is very proud of the advisors recognized on this list. All eight women are pioneers in the retirement plan space and we are grateful for the contributions they've made both in our industry and within our firm.
About NAPA
National Association of Plan Advisors was created by and for retirement plan advisors. Membership is also open to other retirement industry professionals who support the interests of plan advisors. NAPA is the only advocacy group exclusively focused on the issues that matter to retirement plan advisors. NAPA is part of the American Retirement Association.
About the American Retirement Association
The American Retirement Association, based in the Washington, D.C. area, is a non-profit professional organization established to educate all types of retirement plan professionals, and to preserve and enhance the employer-based retirement plan system as part of the development of a cohesive and coherent national retirement income policy.
About Pensionmark Financial Group
The Pensionmark Financial Group network represents over 300 advisors and staff across 65 locations across the country with over 3,000 retirement plan clients. The Pensionmark' network of retirement specialists includes defined contribution, defined benefit and terminal funding, not-for-profit, wealth management, and executive/deferred compensation specialists. As of December 31, 2019, the Pensionmark network of advisors and independent advisory firms collectively provide investment management and retirement plan consulting support to over $48.0 billion in assets, including regulatory assets under management (AUM) of over $19 billon.